Chip on Board Flex LED Handlamp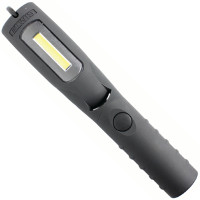 Highly durable cordless handlamp for the professional. Powerful and wide beam light for maximum flexibility.

Latest LED technology: Chip On Board (COB).
Durable, shatterproof, rubberized ABS housing.
Supplied with 230v charger + 12v car charger.
90° adjustable rotating LED light.
Ergonomically designed handle.
Flex function: 45° + 90° degrees.
Durable and strong hook.
Charging time: 4 hours.
Burn time: 4 hours.
Powerful magnet.
280mm x 50mm x 45mm
Part No:WNS-15-014

Phone: 01724 850950

sales@wnselectrics.com

Fax: 01724 857232